10 Funking Awesome Funk Chords
This last lesson in The Funk Course, we're going to check out another 10 funking awesome chords you can mix into your funk rhythm playing. There are of course hundreds more to explore on your own but these ones are all super cool and fun to play!
Chord Boxes
Here's the chord boxes of those used in the video: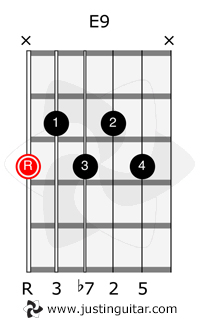 Practice Time
1. Clean Chords
Most important is that you can get your chords clean and that every note is ringing out clearly. Spend some time doing that old exercise you probably used as a beginner - strum, pick up out the notes one at a time, then strum again.
2. Lift For Scratch
Next, you want to make sure that you can lift the chord and get a good 'scratch' while keeping the fingers in position. So strum the chord, then relax it and make sure that all the notes are muted when you strum again. Then reapply the pressure and check you have a good clear chord again. Then lift and check the mutes. Repeat. Repeat. Big deal!
3. Lift For Mute
Also important is that you notice that relaxing the chord grip stops the notes of the chord which is a really important element in groove creation. So play the chord and then relax your grip and make sure all the notes stop ringing out. Repeat. Lots ;)
4. Have Fun
Now you have a whole lot of great Funk techniques, chords and grooves to explore on your own. Remember to listen to great music and try to emulate the stuff you hear that you really dig!
Real World Examples
Funk chords like these are are used in many funk songs and other styles too, but some that you might like to check out that use these specific chord grips are:
Aeroplane - Red Hot Chili Peppers (7sus and 7 with 4th string root)
Recommended Album
You ain't never going to get the Funk if you're not listening to the greats! So with each lesson, I'm going to recommend a funk album for you to sink your ears into and help you get in the groove - some of the all-time classics and maybe some slightly less known albums too that I really dig.
Red Hot Chili Peppers - Blood Sugar Sex Magic (1991)
This is a funk rock blend I guess but the funkiness of the band can't be denied and this album really is a superb record on pretty much every level. Give It Away and Suck My Kiss are proper funky ass tunes but even the not so funky songs are killer. Just get it.

Buy at Amazon.co.uk • Buy at Amazon.com