Hey, how you doing? Justin here, welcome to my site!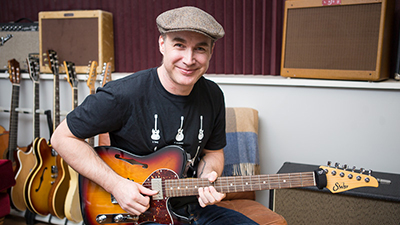 I figure that an overview of the site and what lessons and modules (courses) it contains would be useful for both new and regular visitors. So below you'll find a list of the currently available modules and below that an outline of my Grade System which may help you get your bearings if you are new around here. If you didn't watch the 1 Minute Introduction on the front page yet, you'll probably find that real helpful too!
I put modules, lessons and songs into a subjective order of difficulty using a kind of 'karate' colour Grade System. It's not an official education grade system (yet!) but will help you know where you're at in the grand scheme of things and where you should probably be going. There's an outline of each grade below the Module Structure!
Module Structure (with links!)
The Grade System
1. White
If you are new to the guitar you should start at the beginning, right? The white grade is super easy and for people who have never played before. You'll learn the 8 Essential Beginner chords, easy 8th note strumming, how to practice chord changes (the biggest beginner struggle) and you should learn loads of easy songs too. There's even a pre-beginner section for people interested in getting into guitar but not sure what's involved or what to buy.
The white grade contains 7 lessons, each lesson I expect will last the average student 1-3 weeks. Detailed practice routines are given for each lesson which you can add to My Practice Assistant! After or during the Stages you should check out the optional Music Theory and Ear Training too!
2. Yellow
Once you're confident with your White skill-set you graduate to Yellow where we learn some more chords and you'll first meet the Beginner nemesis, The F Chord. We'll learn alternative fingerings for chords, more about strumming, scales and improvising! We'll also get a taste of fingerstyle, learn a 12 Bar Blues and Rock Power Chords - there last 3 topics will be covered in more detail in a module each in Grade 3!
3. Orange
The Update for Grade 3 is due to start late 2020 and will include 3 new modules: Rock Basics, Acoustic & Fingerstyle, and Beginning Blues. You will also have the Chord Explorer module to explore and I have one other idea in development too!
4. Green
After some time consolidating your beginner skills (I recommend 3-6 months at least!) then you enter the Intermediate Grades (Green/Blue/Purple) which start with a series of Foundation Modules in which you'll learn about Barre Chords, 16th Note Strumming and more about technique, knowledge and skills. The idea is that you learn the foundation skills and then apply them in the Intermediate style modules depending on what music you like!
In this Green grade, you'll explore Foundations 1 and 2 (all about E Shape Barre Chords) and you will find the Effective Practice module will be super helpful if you've not looked at it before. You should also be learning as many songs as you can that use these new skills.
5. Blue
In the Blue Grade we continue on with Foundation Modules 3 and 4 which as well as learning to play A Shape Barre chords, we explore improvising, scale practice, technique development and more. String bending is introduced here and so now would be a great time to get into the Essential Blues Lead Guitar module. If you are doing Practical Music Theory too then you'll be hitting some super interesting stuff around now!
6. Purple
Purple is the last of the Intermediate Grades and by the end of this, you should be confident playing E and A Shape barre chords but also be familiar with The CAGED system and manipulation of chords (covered comprehensively in Practical Music Theory Course Grade 6) and also Major Scale Improvisation.
After the Intermediate Foundation is completed you should pick style modules you enjoy; Master The Major Scale, All Over Blues Lead Guitar, Blues Rhythm Guitar, Folk Fingerstyle, Funk Guitar, Jazz Rhythm Guitar and many more planned.
At this point, you're probably ready to start playing live and should be feeling pretty confident as a guitarist!
7. Red
These advanced grades are for those that want to push it a bit further, and this grade will mostly be based on Modal theory, how it works, what it is, how it's used. To be honest, right now it's looking a little sparse, but I'll be hitting this as soon as I get a chance. Jazz Harmony and Walking Bass modules live here, as will Colouring The Blues (when I finish it!).
8. Brown
Making changes is what Brown Grade is all about. Rather than playing from a scale, we look at treating chords as individuals and exploring how to approach them. I guess it's really a jazz approach but it applies to Blues and many other styles as well - personally I got familiar with the concept in Jazz and then immediately realized it was what the Blues players I loved all did, so that's kinda where we head here.
In theory-land, we'll be exploring Melodic Minor modes, chord substitutions and that kinda stuff.
9. Black
Any of you that have done martial arts will know that "Black belt is where the journey begins" - it's not the destination and as you get to this point you'll likely start realizing the important stuff is the simplest, but it ain't easy! I've got some special treats in the works for you folk that make the grade! :) I'm working my way up to this stuff, better to build from the ground up eh!